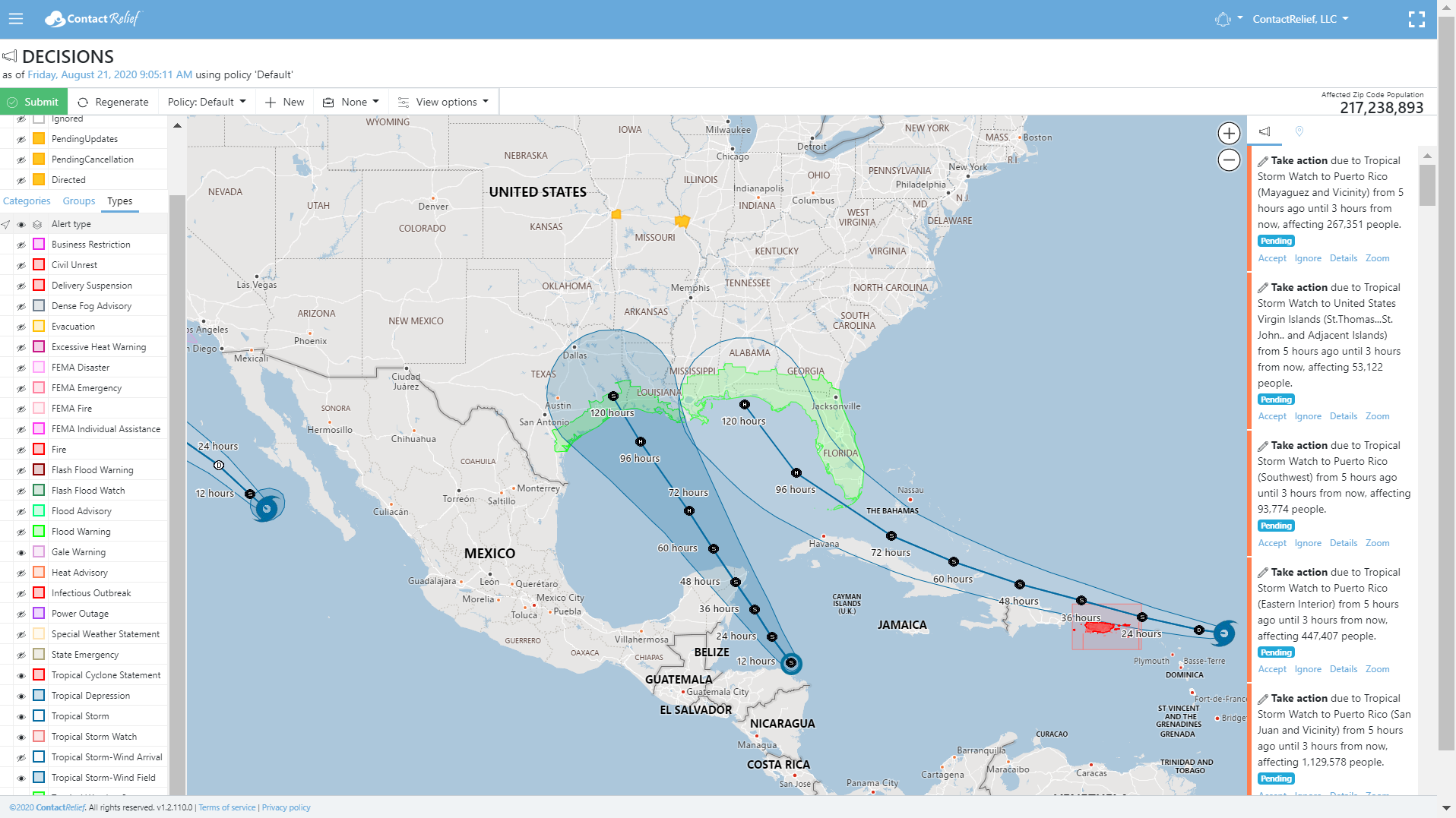 Hurricanes predicted to make near simultaneous landfall
Tropical Storm Laura and Tropical Depression 14 are expected to reach Hurricane strength before making landfall near the Florida Panhandle and Texas coastlines on Wednesday.
Friday, August 21, 2020 1:51:43 PM +00:00
Tropical Storm Laura, recently formed from Tropical Depression 13, and Tropical Depression 14 are both expected to reach Hurricane strength before landfall. In a rare occurrence, the storms are predicted to impact within hours of each other early Wednesday morning (2020/08/26).
Tropical Storm Laura Threatens Florida and Alabama as a Potential Hurricane
Tropical Storm Laura is expected to reach Hurricane strength early Tuesday (2020/08/25). The current forecast track predicts the storm will cross the Florida Keys before turning northward towards the western edge of the Florida panhandle. Laura is expected to make landfall early Wednesday morning (2020/08/26).
Key Messages as of 2020-08-21 from the National Hurricane Center for Tropical Storm Laura include:
1. Tropical storm conditions are possible across portions of the northern Leeward Islands, the Virgin Islands, Puerto Rico, the southeastern Bahamas, and the Turks and Caicos islands later today through Saturday night, and Tropical Storm Watches have been issued for some of these islands. Heavy rainfall is likely across this area beginning today and could cause mudslides and flash and urban flooding through Sunday.
2. The details of the long-range track and intensity forecasts are more uncertain than usual since the system could move over portions of the Greater Antilles this weekend. However, this system could bring some storm surge, rainfall and wind impacts to portions of Hispaniola, Cuba, the Bahamas, and Florida this weekend and early next week. Interests there should monitor this system's progress and updates to the forecast over the next few days.
Tropical Depression 14 Threatens Texas and Louisiana as a Potential Hurricane
Tropical Depression 14 is forecast to reach Hurricane strength before impacting near Houston, Texas early Wednesday morning (2020/08/26).
Key Messages as of 2020-08-21 from the National Hurricane Center for Tropical Depression 14 include:
1. Tropical Depression Fourteen is expected to strengthen over the northwestern Caribbean Sea through Saturday, and is likely to produce tropical-storm-force winds and heavy rainfall over portions of the coasts of Nicaragua and Honduras, including the Bay Islands, through today. The system is expected be near or at hurricane strength when it reaches the Yucatan Peninsula of Mexico late Saturday where a Hurricane Watch and a Tropical Storm Warning are in effect.
2. The system is expected to move into the south-central Gulf of Mexico as a tropical storm on Sunday. Some strengthening is anticipated while it moves northwestward over the western Gulf of Mexico early next week, but it is too soon to know exactly how strong it will get or the location and magnitude of impacts it will produce along the central or northwestern Gulf Coast. Interests in that area should continue monitoring the progress of this system over the next few days.
Storms tracks may change so stay tuned
We are still 4 days out from landfall on the U.S. mainland. The current storm tracks can and likely will change during that time. Companies with interests along the Gulf Coast should pay special attention.
Recommendations for Contact Centers
ContactRelief has issued Tropical Weather Strategy alerts and recommendations for the affected areas. Contact centers should monitor the forecast track, wind field size, and arrival time of tropical force winds in the ContactRelief Command Center and take action if there is any deviation of either storm's forecasted track. Tropical Storm Laura will approach Puerto Rico and the U.S. Virgin Islands this weekend. Electrical power and other storm impacts are possible in these regions during this time.
The ContactRelief Disaster Decision Team will continue to monitor the storm's development and issue additional advisories as warranted.
Don't Delay
The next disaster is on its way. Become a ContactRelief subscriber and keep your company protected from disaster. Our full recommendations consist of the areas impacted and the associated Zip Codes. For as little as $750 per month your company can quickly implement a solution that protects your company and its customers. As we say at ContactRelief, "It's just smart business."
Contact sales@contactrelief.com for more information.
Weather alerts, emergencies, and breaking news are monitored around the clock. The Disaster Decision Engine applies your rules to help you decide when to take action for your consumers. Your recommendations are sent to your contact centers and partners with ZIP Code granularity.