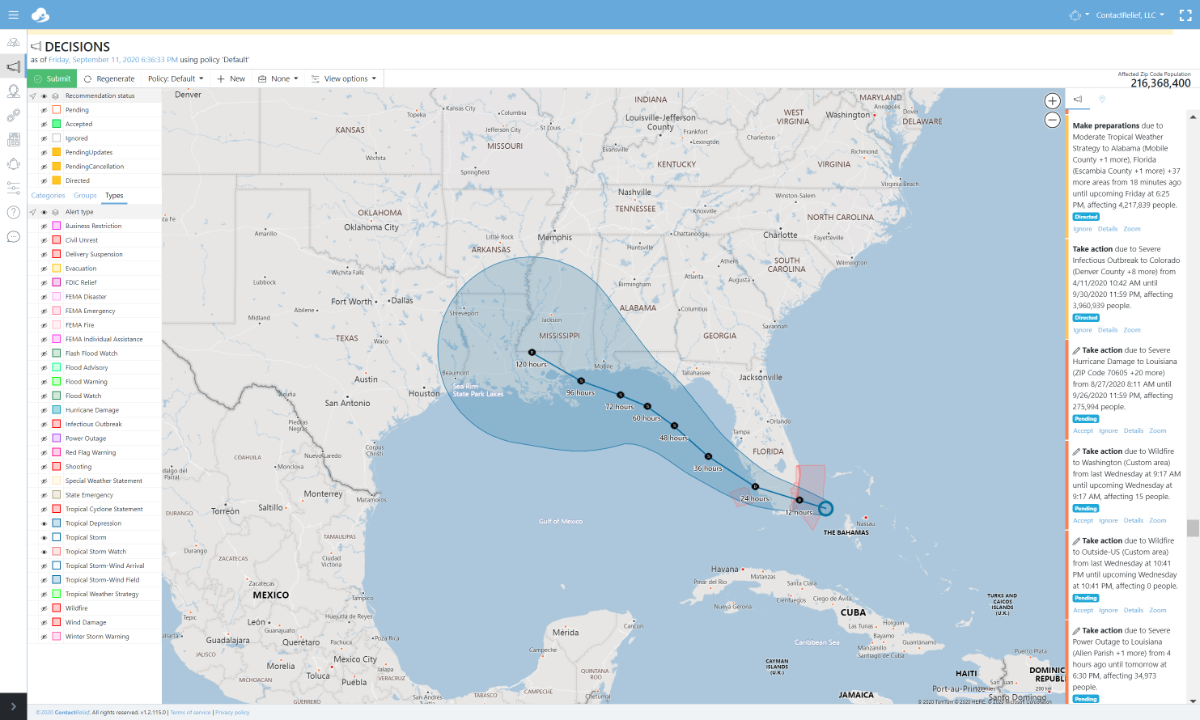 Tropical Storm to threaten Gulf Coast
Tropical Storm expected to form after Tropical Depression 19 passes through Southern Florida. NHC says forecast track is highly uncertain after 48 hours.
Friday, September 11, 2020 11:39:54 PM +00:00
Tropical Depression 19
A disturbance in the Atlantic off the coast of Florida has formed into Tropical Depression 19. The National Hurricane Center has issued Tropical Storm Watches for the southeastern tip of Florida. The real impact however is expected to occur days later when the storm is reaches Tropical Storm strength as it approaches the Mississippi/Louisiana border.
Storms tracks may change so stay tuned
The National Hurricane Center cautions that TD 19's storm track beyond 48 hours is "highly uncertain" and could deviate to the northeast after it crosses the Florida peninsula.
Recommendations for Contact Centers
ContactRelief has issued Tropical Weather Strategy alerts and recommendations for the affected areas. Contact centers should monitor the forecast track, wind field size, and arrival time of tropical force winds in the ContactRelief Command Center and take action if there is any deviation of either storm's forecasted track.
The ContactRelief Disaster Decision Team will continue to monitor the storm's development and issue additional advisories as warranted.
Don't Delay
The next disaster is on its way. Become a ContactRelief subscriber and keep your company protected from disaster. Our full recommendations consist of the areas impacted and the associated Zip Codes. For as little as $750 per month your company can quickly implement a solution that protects your company and its customers. As we say at ContactRelief, "It's just smart business."
Contact sales@contactrelief.com for more information.
Get in touch
Shaping your outbound contact away from disaster stricken areas isn't just the right thing to do, it's smart business. To learn more about how ContactRelief can help you protect your brand, reduce your risk of adverse actions, and improve your contact center efficiency, click below to contact us.
Contact us