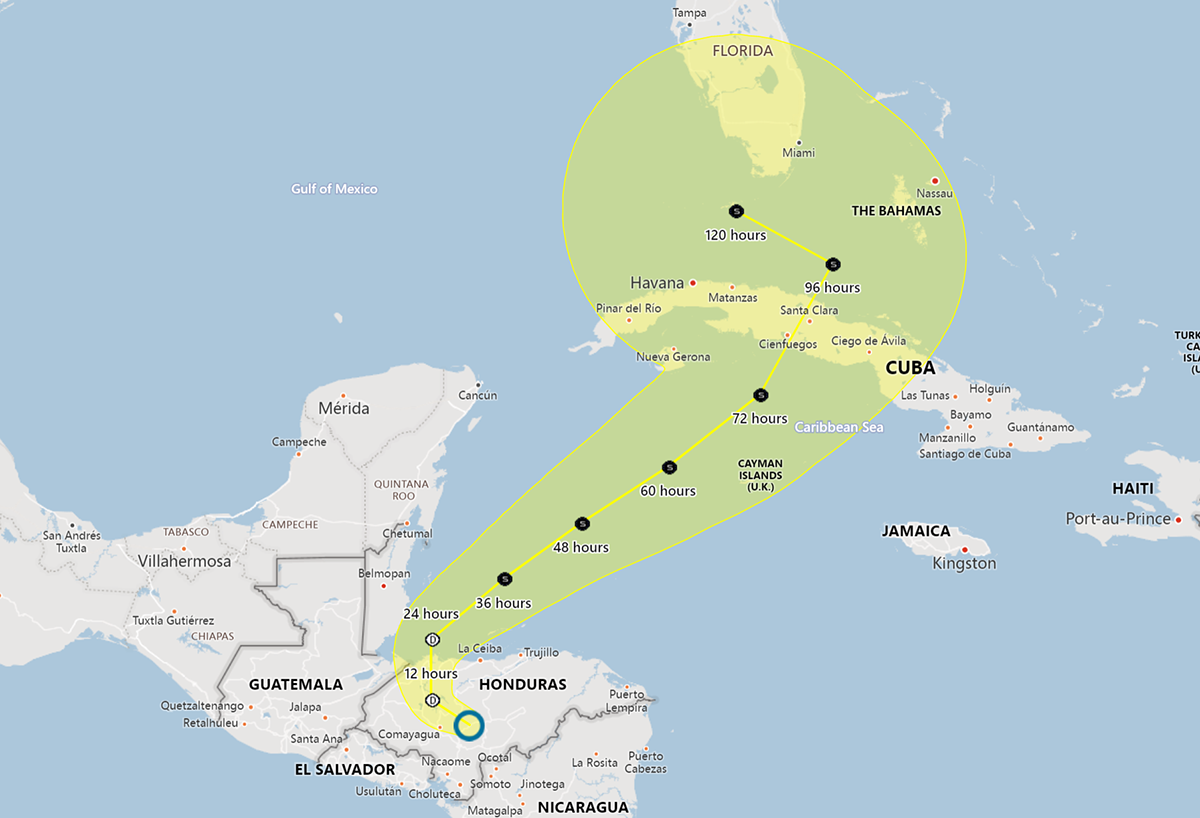 Eta on track to threaten South Florida
Remnants of Hurricane Eta may potentially threaten South Florida this weekend.
Thursday, November 5, 2020 4:32:52 AM +00:00
Tropical Depression Eta
After making landfall in Nicaragua, Hurricane Eta is now a Tropical Depression moving northwestward over Honduras. In its current forecast track, the storm is expected to reemerge in the Atlantic near Belize and strengthen into a Tropical Storm. Eta is then expected to track northeastward and make landfall in Cuba this weekend. After reemerging again in the Gulf of Mexico, Tropical Storm Eta will encounter trough as it approaches Florida causing the storm to steer into the Gulf of Mexico and up the westward coast of Florida later this weekend or early next week.
Storms tracks may change so stay tuned
Eta's ultimate track is still highly uncertain because: Eta is still on land; Honduras has a complex system of mountains over which the storm will travel before reaching the ocean; The track and intensity of the storm are dependent are multiple oceanic weather systems and the interaction with the Cuban landmass. For these reasons, the National Hurricane Center cautions that "confidence in the details of the extended track forecast is low".
Key Messages from the National Hurricane Center
1. Through Monday morning, heavy rainfall from Eta will lead to catastrophic, life-threatening flash flooding and river flooding across portions of Central America, along with landslides in areas of higher terrain. Flash and river flooding is also possible across Jamaica, southeast Mexico, the Cayman Islands and western Cuba.
2. Eta is forecast to regain tropical storm strength over the northwestern Caribbean Sea late this week. Although the details of the future track and intensity of Eta are uncertain, there is an increasing risk of impacts from wind and rainfall in portions of Cuba, southern Florida and the Florida Keys this weekend and early next week.
Recommendations for Contact Centers
ContactRelief has issued Tropical Weather Strategy alerts and recommendations for the affected areas. Contact centers should monitor the forecast track, wind field size, and arrival time of tropical force winds in the ContactRelief Command Center and take action if there is any deviation of either storm's forecasted track.
The ContactRelief Disaster Decision Team will continue to monitor the storm's development and issue additional advisories as warranted.
Don't Delay
The next disaster is on its way. Become a ContactRelief subscriber and keep your company protected from disaster. Our full recommendations consist of the areas impacted and the associated Zip Codes. For as little as $750 per month your company can quickly implement a solution that protects your company and its customers. As we say at ContactRelief, "It's just smart business."
Contact sales@contactrelief.com for more information.
What can ContactRelief do for you?
Are you ready to see how ContactRelief can shape your disaster operations strategy? Schedule your customized demo to see firsthand how ContactRelief can reduce your workload, protect your brand and improve your contact efficiency.