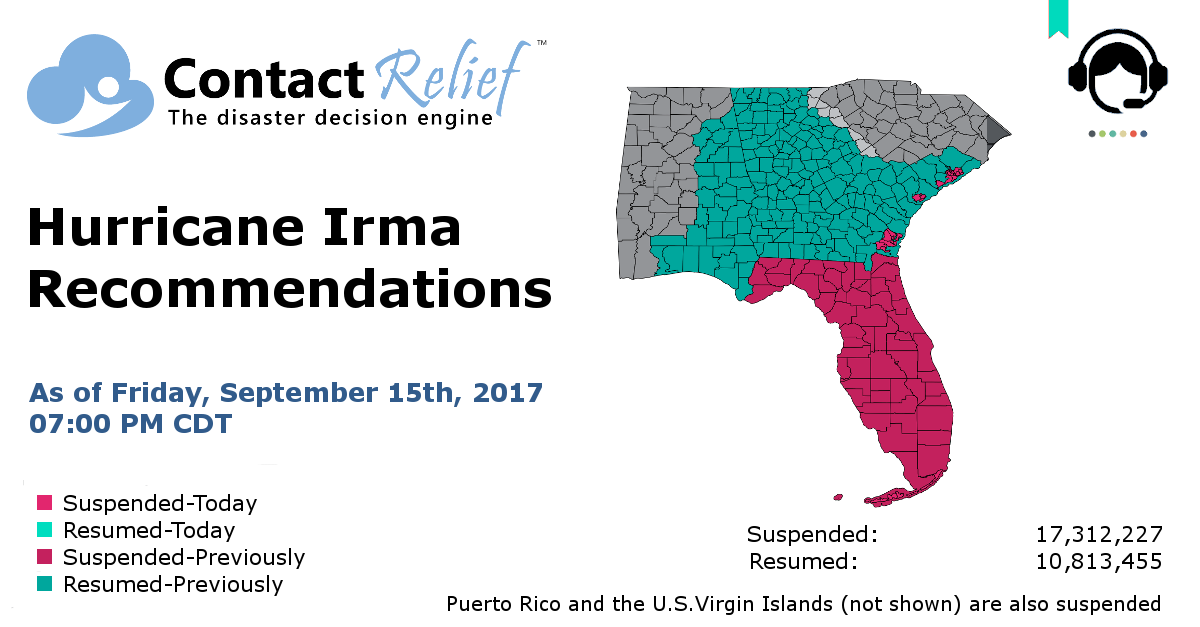 ContactRelief Hurricane Irma Recommendations For Contact Centers
ContactRelief recommends continued contact suspensions for Puerto Rico, the U.S. Virgin Islands, most of Florida, and specified zip codes in Georgia and South Carolina.
Saturday, September 16, 2017 7:00:00 AM -05:00
ContactRelief is making public its Hurricane Irma recommendations made to subscribers Friday, September 16th.
Irma Recovery Update
After devasting hits on the U.S. Virgin Islands and a near miss on Puerto Rico, Hurricane Irma made landfall in the continental U.S. early on Sunday, September 10, in the Florida Keys and again later that day near Naples, Florida. After weakening as it moved up the Florida peninsula, it moved into Georgia and Alabama and ultimately disipated. For a complete understanding of Irma's development and path through Florida, see ContactRelief's Hurricane Irma - Post Event Analysis from ContactRelief consulting meteorologist Dr. Kevin Levey.
In it's path, Irma left a trail of destruction that many observers say will cost north of $50 billion to repair. Although preliminary damage estimates were higher and the ultimate path of the hurricane spared the heavily populated southeastern coast of Florida from the worst of the storm, many areas were hit hard.
ContactRelief will be maintaining our recommendation to suspend contact with most Florida counties for the next few days. On Monday, September 18, schools will reopen in many areas signaling the beginning of a long path toward normalcy. We expect to provide additional guidance on Sunday, September 17, for resuming contact with consumers in Florida counties least affected by the storm.
Recommendations
A previous recommendation to resume contact remains in effect for Alabama counties: Barbour, Bullock, Calhoun, Chambers, Cherokee, Clay, Cleburne, Coffee, Coosa, Covington, Crenshaw, Dale, Elmore, Escambia, Etowah, Geneva, Henry, Houston, Lee, Macon, Montgomery, Pike, Randolph, Russell, St. Clair, Talladega, Tallapoosa.
A previous recommendation to resume contact remains in effect for Florida counties: Bay, Calhoun, Escambia, Gulf, Holmes, Jackson, Okaloosa, Santa Rosa, Walton, Washington.
A previous recommendation to resume contact remains in effect for Georgia counties (except specified zip codes): Appling, Atkinson, Bacon, Baker, Baldwin, Banks, Barrow, Bartow, Ben Hill, Berrien, Bibb, Bleckley, Brantley, Brooks, Bryan, Bulloch, Burke, Butts, Calhoun, Camden, Candler, Carroll, Catoosa, Charlton, Chatham, Chattahoochee, Chattooga, Cherokee, Clarke, Clay, Clayton, Clinch, Cobb, Coffee, Colquitt, Cook, Coweta, Crawford, Crisp, Dade, Dawson, Decatur, DeKalb, Dodge, Dooly, Dougherty, Douglas, Early, Echols, Effingham, Emanuel, Evans, Fannin, Fayette, Floyd, Forsyth, Fulton, Gilmer, Glascock, Glynn, Gordon, Grady, Greene, Gwinnett, Hall, Hancock, Haralson, Harris, Heard, Henry, Houston, Irwin, Jackson, Jasper, Jeff Davis, Jefferson, Jenkins, Johnson, Jones, Lamar, Lanier, Laurens, Lee, Liberty, Long, Lowndes, Lumpkin, Macon, Madison, Marion, McDuffie, McIntosh, Meriwether, Miller, Mitchell, Monroe, Montgomery, Morgan, Murray, Muscogee, Newton, Oconee, Oglethorpe, Paulding, Peach, Pickens, Pierce, Pike, Polk, Pulaski, Putnam, Quitman, Randolph, Rockdale, Schley, Screven, Seminole, Spalding, Stewart, Sumter, Talbot, Taliaferro, Tattnall, Taylor, Telfair, Terrell, Thomas, Tift, Toombs, Towns, Treutlen, Troup, Turner, Twiggs, Union, Upson, Walker, Walton, Ware, Warren, Washington, Wayne, Webster, Wheeler, White, Whitfield, Wilcox, Wilkes, Wilkinson, Worth.
A previous recommendation to resume contact remains in effect for South Carolina counties (except specified zip codes): Allendale, Beaufort, Berkeley, Charleston, Colleton, Dorchester, Hampton, Jasper.
A previous recommendation to suspend contact remains in effect for Florida counties: Alachua, Baker, Bradford, Brevard, Broward, Charlotte, Citrus, Clay, Collier, Columbia, DeSoto, Dixie, Duval, Flagler, Franklin, Gadsden, Gilchrist, Glades, Hamilton, Hardee, Hendry, Hernando, Highlands, Hillsborough, Indian River, Jefferson, Lafayette, Lake, Lee, Leon, Levy, Liberty, Madison, Manatee, Marion, Martin, Miami-Dade, Monroe, Nassau, Okeechobee, Orange, Osceola, Palm Beach, Pasco, Pinellas, Polk, Putnam, Sarasota, Seminole, St. Johns, St. Lucie, Sumter, Suwannee, Taylor, Union, Volusia, Wakulla.
A previous recommendation to suspend contact with Puerto Rico and the U.S. Virgin Islands remains in effect.
To obtain the list of zip codes that should remain suspended, see the information below.
ContactRelief's On-going Response to Hurricane Irma
For a limited time, ContactRelief is providing our full recommendations without charge as a service to the business community. Our full recommendations consist of the areas to be suspended and the list of zip codes covering these areas. Contact sales@contactrelief.com for more information.
Protect your brand AND revenue when disaster strikes.
Try ContactRelief FREE for 30 days. Discover how we can help you reach up to 5x more customers in a disaster zone – while protecting your brand image.
Buy now - save 10%