Hurricane Jose Threatens New York City
"Tropical storms watches may be raised for North Carolina later today", says National Hurricane Center in its latest advisory.
Saturday, September 16, 2017 9:00:00 AM -05:00
Hot on the heels of major hurricanes Harvey and Irma, Tropical Storm and now Hurricane Jose is threatening the eastern seaboard of the United States. As Hurricane Katia appeared in the Gulf of Mexico and Hurricane Irma approached Florida days earlier, the presence of Jose recreated a pattern of three major active hurricanes last seen in 2010 (see ContactRelief's Hurricane Irma - Post Event Analysis from ContactRelief consulting meteorologist Dr. Kevin Levey). Now after meandering about in the Atlantic for days, the National Hurricane Center warns that tropical storm watches might be raised for portions of North Carolina later today as Jose inches further towards the continental U.S.
The National Hurricane Center says that Jose is located about 550 miles south-southeast of Cape Hatteras, North Carolina, moving steadily northwestward at 9 MPH. The 5-day forecast track for Jose indicates the possibility of Jose coming uncomfortably close to the northeastern seaboard of the U.S. including the heavily populated and vulnerable New York City area.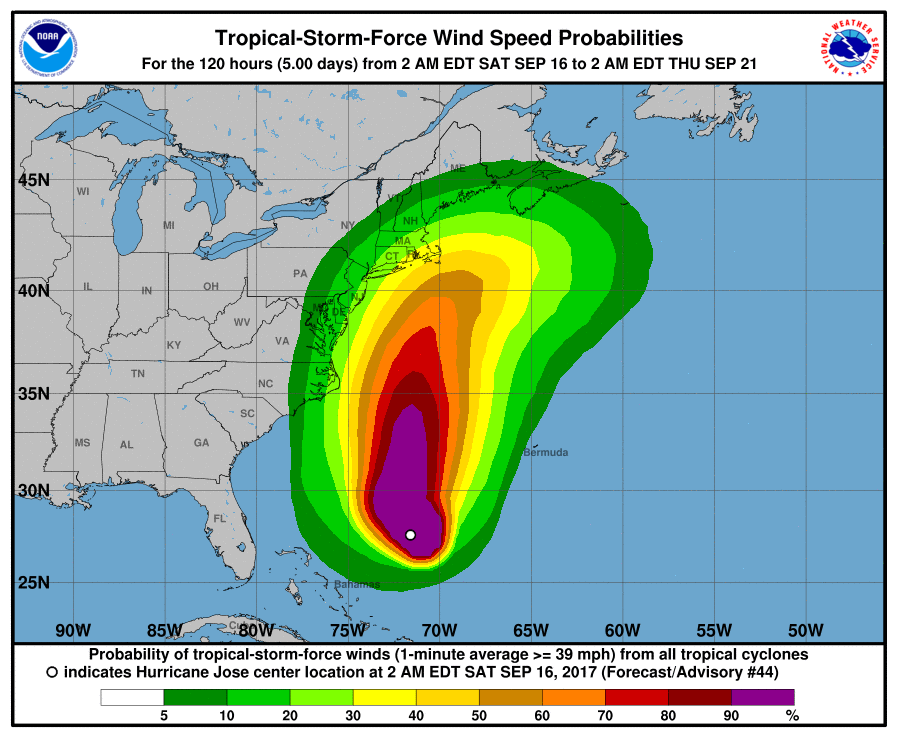 The National Hurricane Center said in its latest advisory that "Interests from North Carolina northward to New England on the east coast of the United States should monitor the progress of this system." ContactRelief is monitoring the storms progress and will issue additional advisories as the storm's path progresses.
ContactRelief's On-going Response to Hurricane Irma
For a limited time, ContactRelief is providing our full recommendations without charge as a service to the business community. Our full recommendations consist of the areas to be suspended and the list of zip codes covering these areas. Contact sales@contactrelief.com for more information.
Weather alerts, emergencies, and breaking news are monitored around the clock. The Disaster Decision Engine applies your rules to help you decide when to take action for your consumers. Your recommendations are sent to your contact centers and partners with ZIP Code granularity.