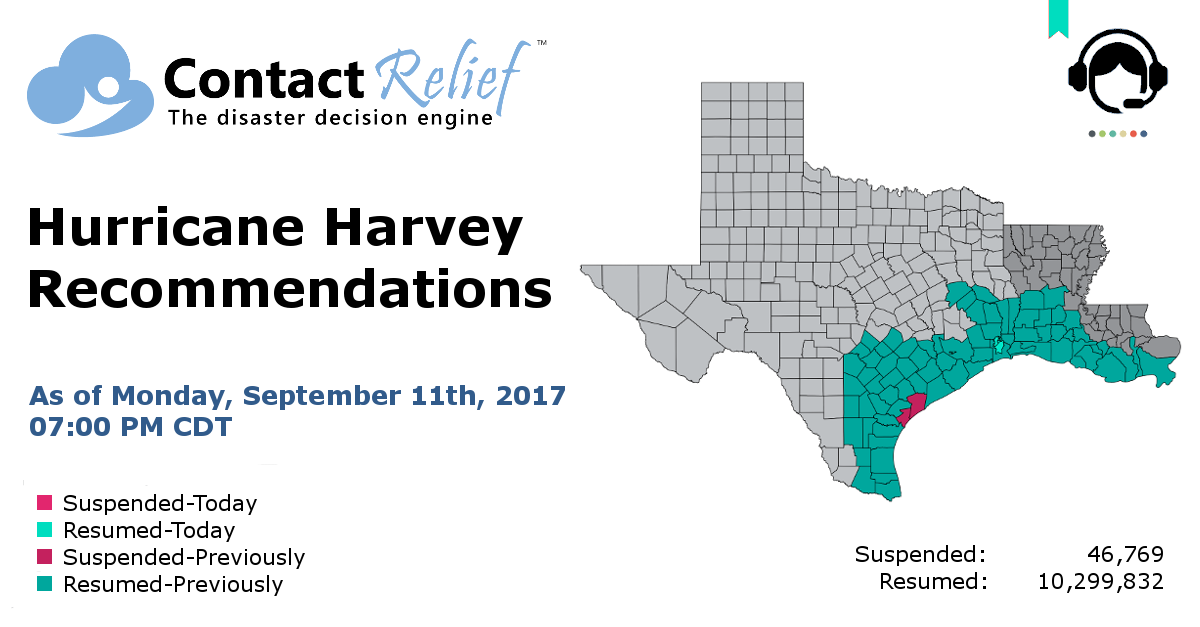 ContactRelief Hurricane Harvey Recommendations For Contact Centers
ContactRelief recommends resuming contact with all Houston and Beaumont consumers.
Tuesday, September 12, 2017 11:00:00 AM -05:00
ContactRelief is making public its Hurricane Harvey recommendations made to subscribers Monday, September 11th.
Contact should be resumed will all Houston and Beaumont Zip Codes previously suspended. Consumers who experienced flooding days after the storm are now able to return to their homes, assess the damage, and plan for recovery. We expect to lift all contact restrictions for Texas in the next few days.
A previous recommendation to suspend contact remains in force for Texas counties: Aransas, Calhoun.
Hurricane Harvey had a devasting impact on Coastal Texas. For more information read our Part 1 and Part 2 series in ContactRelief's Weather Insights with consulting meteorologist Dr. Kevin Levey.
As we lift contact suspensions for Texas, it is important to remember that consumers have not fully recovered and will not fully do so for many months to come. We recommended suspending contact before the event because it enabled consumers to focus on their safety, the safety of their loved ones, and to prepare for the event. ContactRelief subscribers that followed these recommendations can be proud of their focus on the consumer, and know that they have not only helped to protect and promote their brand image but also helped the consumer remain focused on preparing for this event.
We maintained these contact suspension recommendations for some time afterward because of the severity of the event and the broad impact to the region. The areas we identified and held in suspension were areas that were hit hardest by the wind and flooding, some of it occurring days after the storm had passed.
We are resuming contact with these areas not because we believe that the areas have fully recovered but because we believe that consumers have had time to assess their situation and develop their plans for recovery.
Our subscribers can play a part in that recovery and at the same time enhance their relationship with the customer. We encourage you to adapt your inbound and outbound call flows identity and provide custom treatment for Hurricane Harvey (and Hurricane Irma) survivors. We know that many of you have hardship programs for these situations and we have great confidence that the contact center community will deploy these in the next few days if they have not already done so.
Finally, we recognize that each company will make its own decisions on when to resume contact based on its business and social responsibilities. Our recommendations should be viewed as providing a balance between full contact and no contact that we feel is appropriate for many but not all companies.
ContactRelief's On-going Response to Hurricane Harvey
For a limited time, ContactRelief is providing our full recommendations without charge as a service to the business community. Our full recommendations consist of the areas to be suspended and the list of zip codes covering these areas. Contact sales@contactrelief.com for more information.
Are you prepared for the next disaster?
Disasters can strike at a moment's notice. That's why, at ContactRelief, we provide round the clock disaster monitoring to keep your operations ahead of disasters. With timely, comprehensive recommendations that are accurate to the ZIP code, ContactRelief ensures you focus less on the disaster, and more on your operations.
Contact sales@contactrelief.com for more information.