ContactRelief in the Media
Check out our recent coverage to see how we can help you through your next disaster.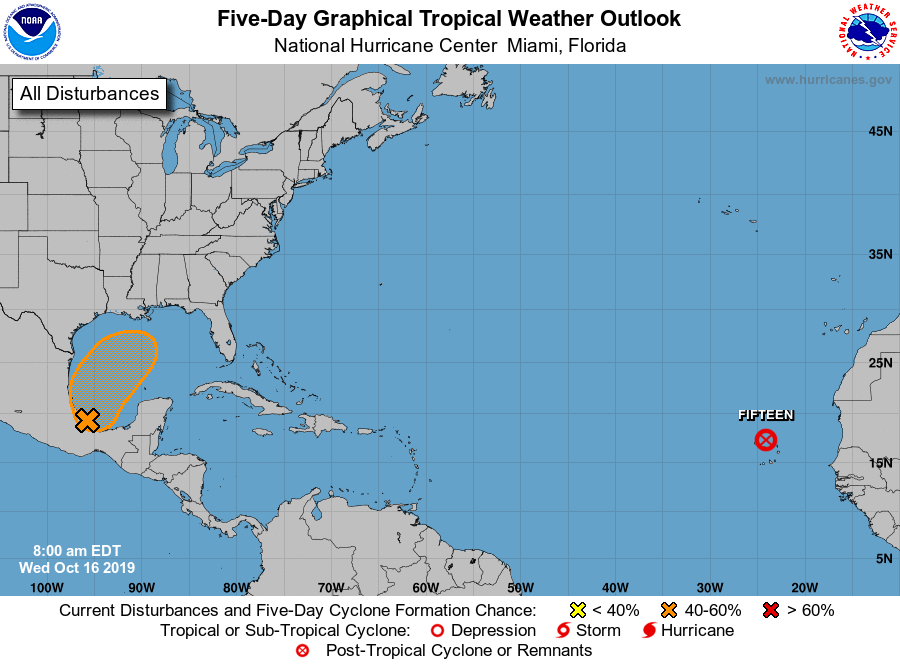 Watching Tropical Disturbance in the Gulf of Mexico
A tropical disturbance originating in the Bay of Campeche has a 50% chance of developing into a tropical or subtropical cyclone.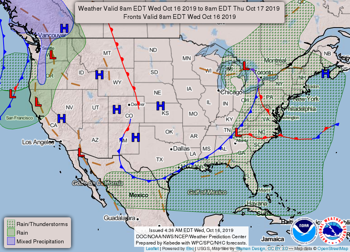 ContactRelief Daily Briefing for Wednesday, October 16, 2019
National Hazardous Weather Outlook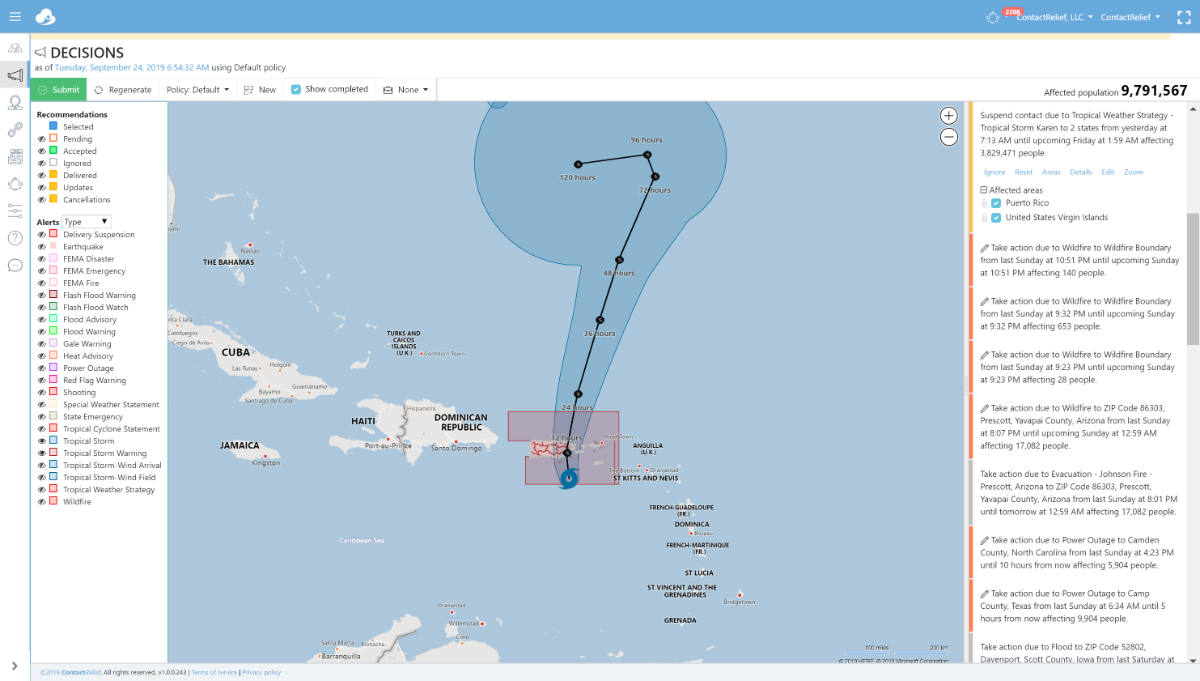 Tropical Storm Karen to pass near or over Puerto Rico and the Virgin Islands on Tuesday
Heavy rains expected as Tropical Storm Karen to pass the islands today.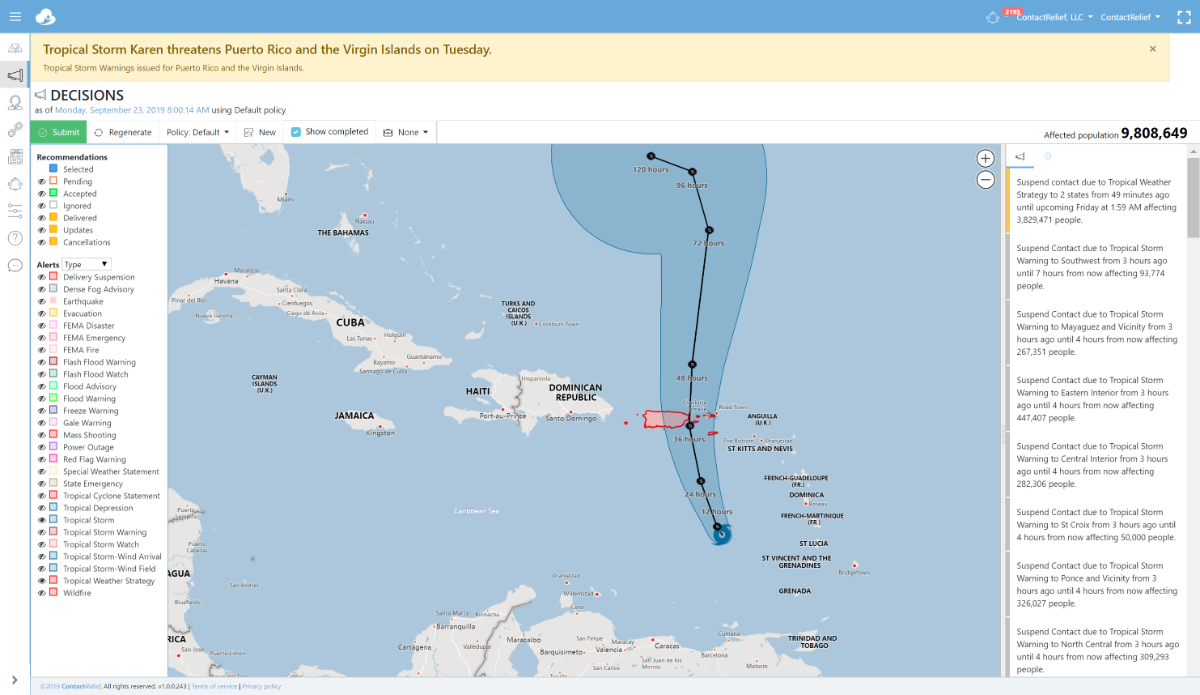 Tropical Storm Karen threatens Puerto Rico and the Virgin Islands
ContactRelief has issued recommendations for contact centers.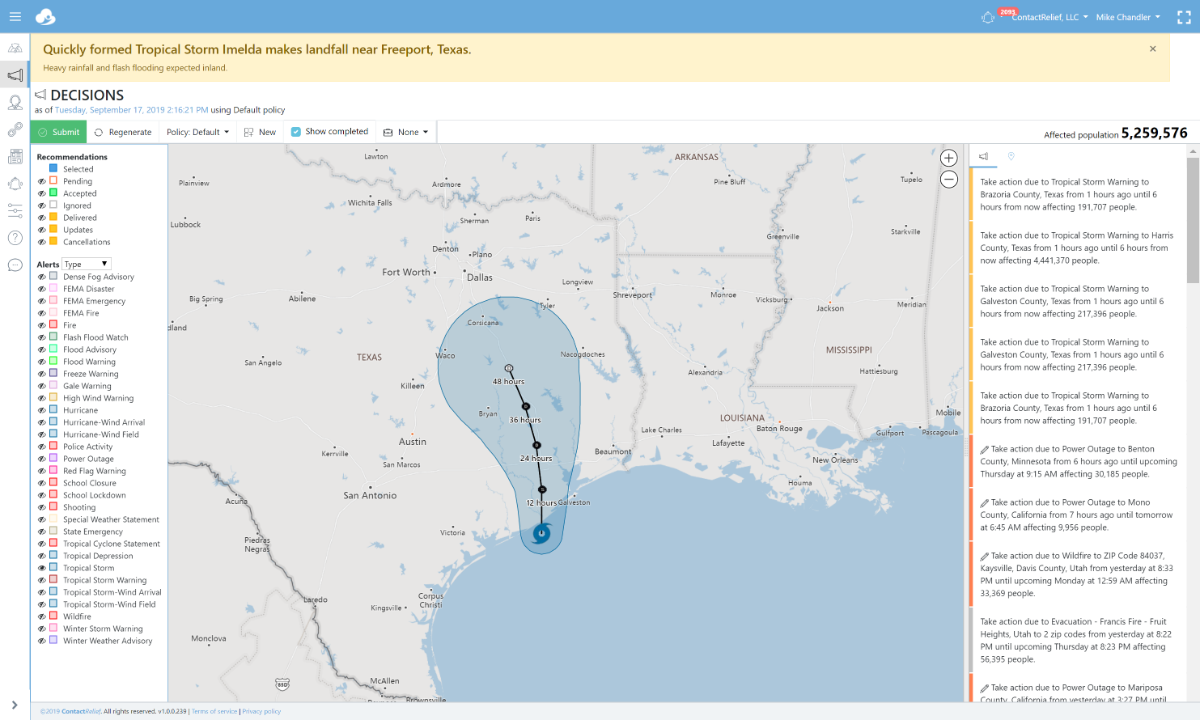 Quickly formed Tropical Storm Imelda makes landfall in Freeport, Texas
Imelda is expected to bring heavy rainfall and flash flooding inland.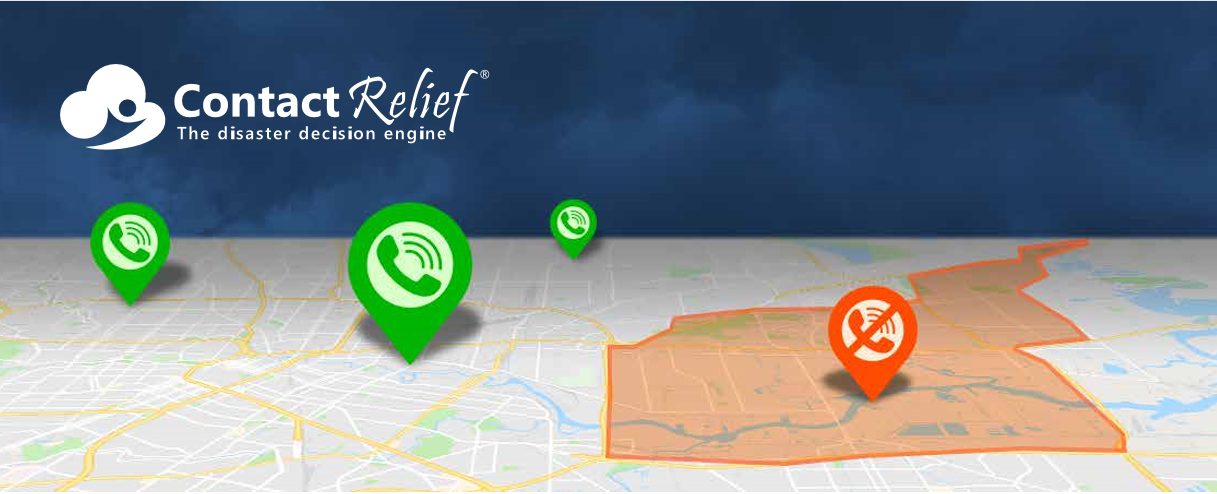 The Value of Customer Level Intelligence During Crisis
Not only are natural and man-made disasters becoming more frequent occurrences, but their scale is also growing as well. The value of knowing specifically which customers are impacted by a crisis event and the duration and severity of the impact is significant. See how in this informative whitepaper.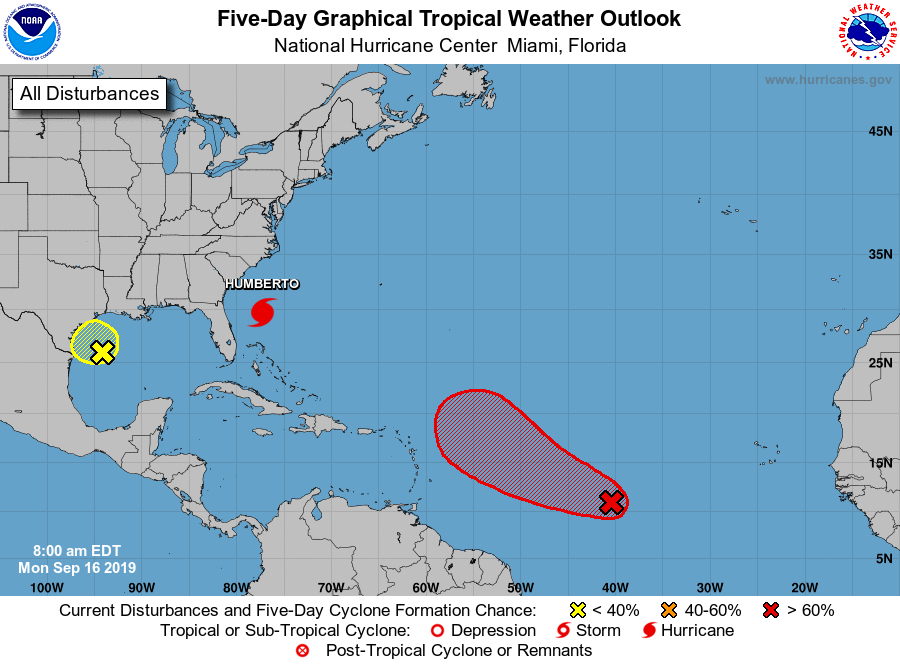 Hurricane Season is in full swing
As Hurricane Humberto moves away from U.S. interests, forecasters eye new disturbances that could threaten the U.S.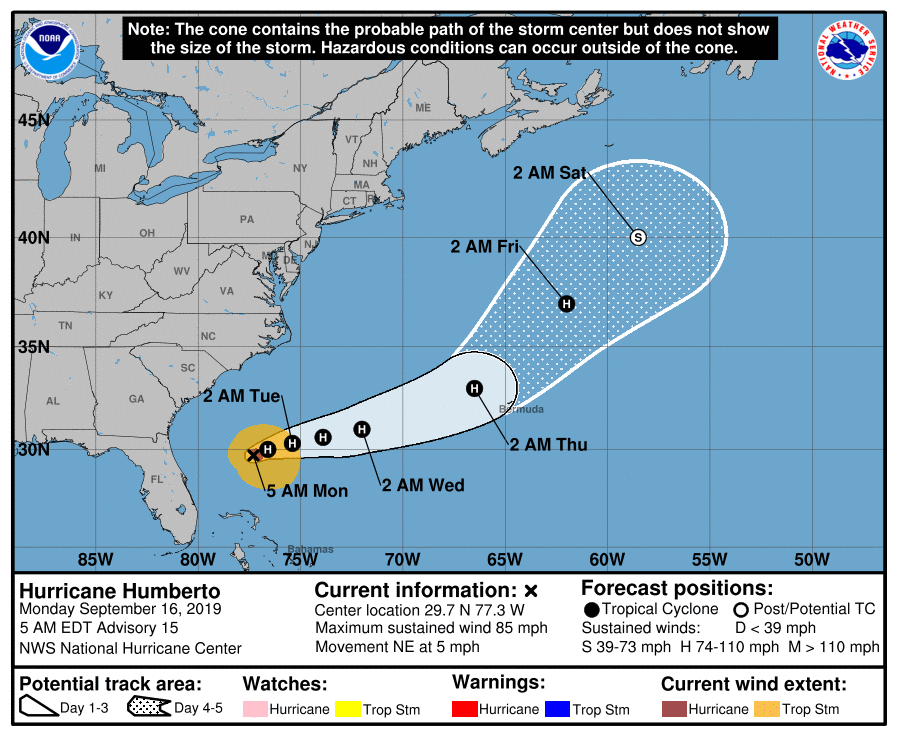 Humberto is now a Category 1 hurricane headed away from U.S.
Hurricane Humberto strengthened to a Category 1 hurricane overnight. Turns away from the U.S. towards open water.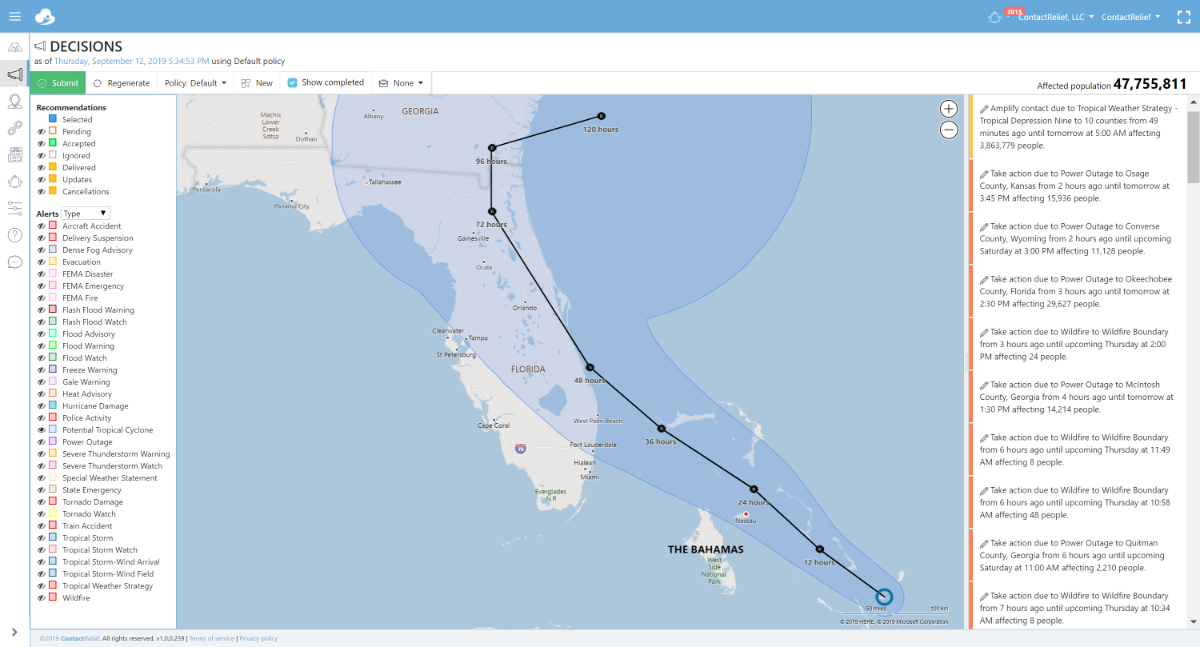 Potential Tropical Storm Humberto takes aim at Florida
A tropical disturbance is expected to strengthen into a tropical depression on Friday and take aim at Florida's east coast on Saturday as Tropical Storm Humberto. ContactRelief has issued a Tropical Weather Strategy alert for contact centers.
Are you prepared for the next disaster?
Disasters can strike at a moment's notice. That's why, at ContactRelief, we provide round the clock disaster monitoring to keep your operations ahead of disasters. With timely, comprehensive recommendations that are accurate to the ZIP code, ContactRelief ensures you focus less on the disaster, and more on your operations.
Contact sales@contactrelief.com for more information.