ContactRelief in the Media
Check out our recent coverage to see how we can help you through your next disaster.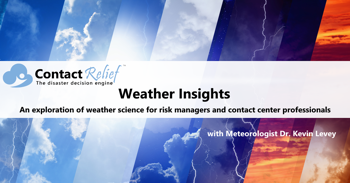 Fourth of July - Will it rain on your parade?
ContactRelief meteorologist Dr. Kevin Levey looks to the climate record for rain on the 4th of July.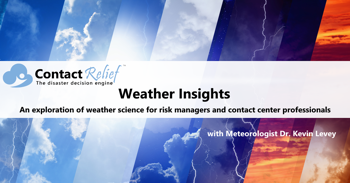 Warming stripes – a picture is worth a thousand words!
ContactRelief meteorologist Dr. Kevin Levey looks at climate change with a new visualization tool.
ContactRelief Now Issues Alerts on FDIC Disaster Regulatory Relief
Financial institutions can now take immediate action at the Zip Code level
Helicopter Crashes into Manhattan Building
Building evacuated and surrounding areas shutdown.
Tropical Depression May Form in Gulf
Storm will bring rain to northeast Mexico and southern Texas.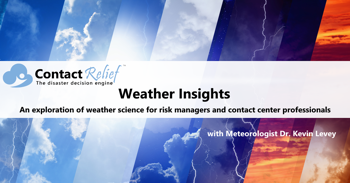 Atlantic Hurricane Season 2019 Has Started!
ContactRelief meteorologist Dr. Kevin Levey reviews the 2019 hurricane forecasts.
Make smarter contact decisions during hurricanes and other disasters
When disasters strike, if you're relying on traditional strategies that are too narrow or much too broad for your capabilities, you're likely bringing operational inefficiencies unnecessary brand risk to your company. During this webinar, we discuss how you can protect your brand while remaining efficient during times of crisis.
Receivables Info
The frantic 2017 and 2018 severe weather seasons showed the truly devastating nature of these crisis events, with damages to consumers and businesses reaching nearly $400B. So as we embark on the 2019 severe weather season, we highlight what you need to know to ensure your business is prepared.
Enhancing Contact Center Efficiency and Brand Value During Disasters
Natural and man-made disasters present a very complex set of challenges for those attempting to service and support the victims. But, when managed well, you can use these crises to significantly enhance long term customer loyalty while simultaneously maximizing the efficiency of your contact center operations.
Are you prepared for the next disaster?
Disasters can strike at a moment's notice. That's why, at ContactRelief, we provide round the clock disaster monitoring to keep your operations ahead of disasters. With timely, comprehensive recommendations that are accurate to the ZIP code, ContactRelief ensures you focus less on the disaster, and more on your operations.
Contact sales@contactrelief.com for more information.