ContactRelief in the Media
Check out our recent coverage to see how we can help you through your next disaster.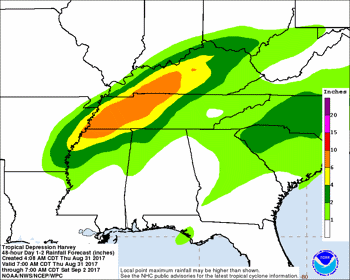 Harvey Now a Tropical Depression, Continued Flooding Expected
As Harvey is downgraded to a tropical depression, the storm is expected to produce heavy rainfall over Arkansas, Tennesee, and Kentucky and surrounding regions.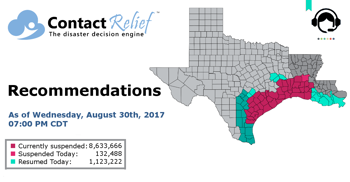 ContactRelief Recommends Resuming Contact for Additional Texas Counties and Louisiana Parishes
ContactRelief recommends resuming contact with consumers in certain counties along the northern edge of the Texas the Harvey impact zone and certain parishes in Louisiana.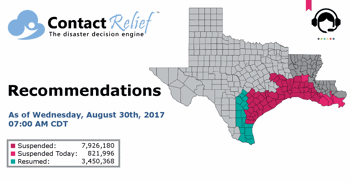 ContactRelief Recommends Contact Suspension for Additional Parts of Louisiana
Additional counties in Louisiana should be suspended as Harvey makes second landfall near Cameron, Louisiana.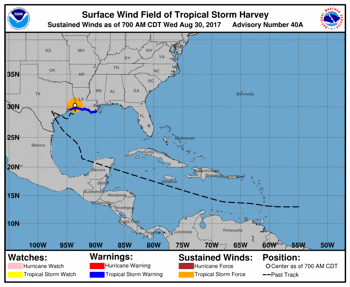 Harvey Makes Landfall for the Second Time
Tropical Storm Harvey made landfall for the second time early Wednesday morning near Cameron, Louisiana.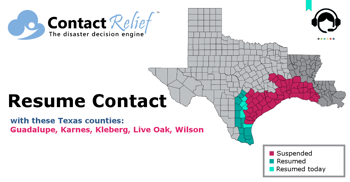 ContactRelief Recommends Resuming Contact in Some Southwestern Texas Counties
Contact resumption recommended for some southwestern Texas counties that escaped the catastrophic devastation caused by Hurricane Harvey.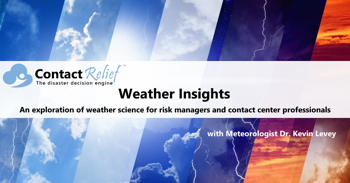 Harvey: The modern American Natural Disaster. (Part 1: August 17th – August 28th)
ContactRelief Meteorologist Dr. Kevin Levey examines Hurricane Harvey in this 2 part series that every risk manager and contact center professional should read.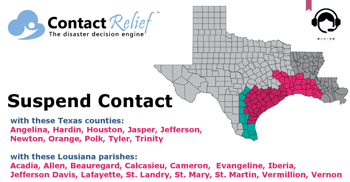 ContactRelief Recommends Suspending Contact for Southeastern Texas and Southwestern Louisiana
Contact suspension recommended for parishes in southwestern Louisiana and counties in southeastern Texas as a result of continued rainfall and flooding conditions from Tropical Storm Harvey.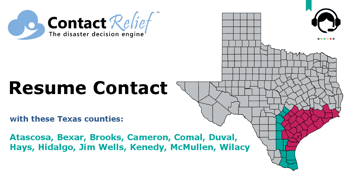 ContactRelief Recommends Resuming Contact With Certain Texas Counties Unaffected by Hurricane Harvey
Contact resumption recommended for counties on the far western boundary of the Harvey contact suspension zone.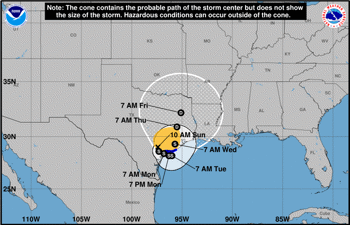 Harvey May Find Open Water - Houston Already Has
National Hurricane Center says "catastrophic and life-threatening flooding is occurring in southeastern Texas" as Harvey turns towards coast.
Get in touch
Shaping your outbound contact away from disaster stricken areas isn't just the right thing to do, it's smart business. To learn more about how ContactRelief can help you protect your brand, reduce your risk of adverse actions, and improve your contact center efficiency, click below to contact us.
Contact us