ContactRelief in the Media
Check out our recent coverage to see how we can help you through your next disaster.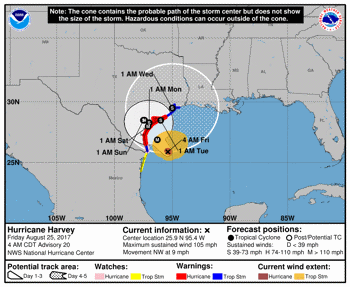 Hurricane Harvey Reaches Category 2 Strength
The National Huricane Center says Hurricane Harvey, now a category 2 storm, is "dangerously approaching the Texas coast".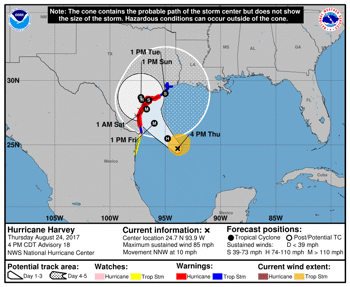 Tropical Storm Harvey Intensifies to Hurricane Strength
Hurricane Harvey is expected to further strengthen on Friday bringing hurricane force winds, flooding, and a life-threatening storm surge to the coast of Texas.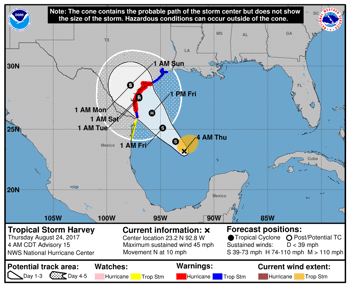 ContactRelief Recommends Contact Suspension for Tropical Storm Harvey
Contact should be suspended in 30 Texas counties until further notice.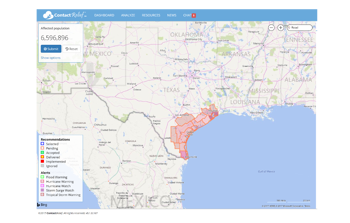 Hurricane Warnings Issued for Tropical Storm Harvey
Harvey becomes a tropical storm as hurricane warnings are issued for the Texas coastline.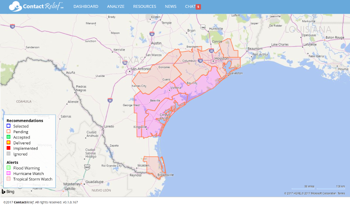 Hurricane Watches Issued for Texas Coast
Harvey strengthens into a Tropical Depression as Hurricane Watches and other advisories are issued for the Texas Coast.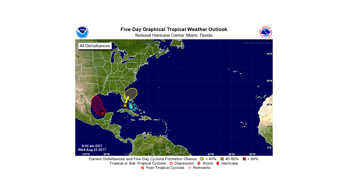 ContactRelief Monitoring Remnants of Tropical Storm Harvey as it Threatens Texas Coast
The storm is expected to reform into a tropical cyclone over the next 48 hours and bring heavy rainfall to the Texas Gulf Coast.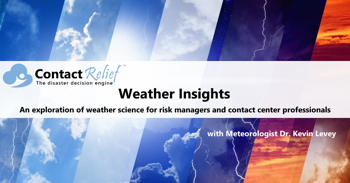 Why don't hurricanes hit the West Coast of the USA?
ContactRelief Meteorologist Dr. Kevin Levey explains why the science behind the hurricane tracks.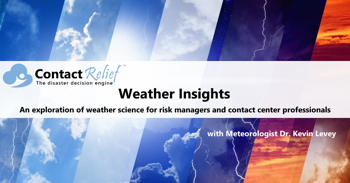 Hurricanes By the Numbers
ContactRelief Meteorologist Dr. Kevin Levey assesses the 2017 hurricane forecast.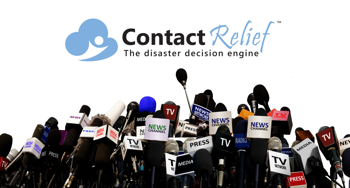 CustomWeather Announces Selection By ContactRelief
San Fransico based premier provider of high-resolution weather data and alert services, announced that it has been selected by ContactRelief, LLC to provide meteorological services for ContactRelief's Disaster Decision Engine.